A Francophonie from across Canada
Although the main concentration of French-speaking Canadians is in Quebec, French is present in every region of the country, from the Maritimes to the Prairies and from the Great Lakes to the Arctic. In every province and territory, French-speaking communities are ready to welcome you with a smile and a "bonjour!"
0
French-speaking Canadians live outside Quebec
0
of the population, speak French
Ten million Canadians speak French, one of the country's two official languages
Indeed, more than 2.6 million French-speaking Canadians live outside Quebec, in one of Canada's Francophone and Acadian communities. For more than 1 million of them, French is the language they use the most often in daily life.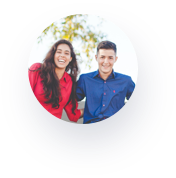 French communities
Located at the intersection of the French-speaking and English-speaking worlds, these communities are vibrant examples of the rich cultural landscape shaped by Canada's official languages, and they offer you and your family a wide range of opportunities and possibilities!
Whether you love great, open spaces and decide to settle in Yukon, want to open a business in Toronto or hope to become a teacher in Acadie, you will find in our communities a variety of French-language services and activities.